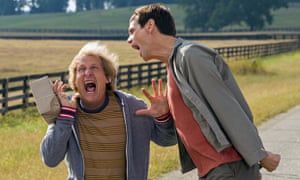 The 1994 comedy directed by Peter Farrelly, "Dumb and Dumber," still manages to impress audiences worldwide with its complete and utter stupidity to this day. You might want to check out the trailer and this list of 100 dumb things that happen in this comedy for context and a laugh.
Lloyd (Jim Carrey) and Harry (Jeff Daniels) are the two main characters, and Lloyd, a taxi driver, falls in love with a rich woman which he drove to the airport, who leaves a suitcase full of money behind. Seeking to return the money to her and gain her love, the two begin their journey to Aspen, the woman's destination, pissing off several people along the way. Little did they know, the money left behind was ransom for a kidnapping, leading to several complications. Of course, on their journey, Harry and Lloyd spend "a little bit" of the money, only enough to get them each a lamborghini and a full new wardrobe, and at the end, one of them gets the girl.
In an Aristotelian sense, "Dumb and Dumber" can be considered a classical comedy (ignoring the semi-cliffhanger ending of the film). But unless one considers learning how to be a nuisance as valuable, this film is as far from meaningful as a film can be. There are multiple hyperbolized references to societal prejudices against the poor and women, but the way they are portrayed in the movie, the audience is not given a chance to even notice while they are uncontrollably gagging. Stereotypes are also evident and exaggerated throughout the movie, but are not critiqued in any way, shape, or form.
These comments on "Dumb and Dumber" can be extended to almost all laugh-out-loud comedies in the contemporary film genre, where the goals of the film makers do not extend far beyond making people exhale through their nose for money. However, comedies that tend to be more literary and a bit less stupid and where seeds of meaning can be scattered throughout can enhance the audience's understanding of the world around them There seems to be a tradeoff between the amount of enjoyment a comedy can bring about and the weight of the meaning it carries.