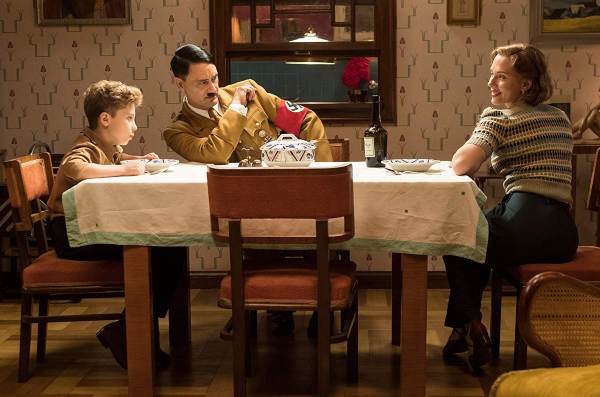 Jojo Rabbit is a 2019 American movie that takes comedic drama to an unexpected place: Nazi Germany. Its protagonist, Jojo, is a young boy coming of age during World War II. His thoughts are revealed during conversations with his imaginary friend, Adolf Hitler. As a devoted German youth, he reveres Adolf, creating an imaginary version of his hero which is fanciful and absurd. Ultimately, when Jojo learns that his mother has been hiding a Jewish girl in their wall and is a member of the resistance, he has to come to terms with his allegiance to his country and the family he loves.
Aristotle defines comedy as a story of the rise in fortune of a sympathetic character, which in this case is Jojo. He is a young naive boy, blindly devoted to the Hitler of his imagination; his confidante who he leans on for advice and guidance. JoJo's Hitler dances, jokes around and is lighthearted. When Jojo joins the Nazi Youth he realizes the imagined version of his hero is not the reality. He sees firsthand the brutality of the war and treatment of the Jews. At the same time, he forms a relationship with the teenage Jewish girl Elsa whom his mother has been hiding. He asks her to reveal her "Jew secrets" so he can write a book to please the Nazi leader Klenzendorf. While listening to her story he grows to like her, breaking down the Jewish stereotypes he has been taught. So, Jojo's rise in fortune is not the monetary kind, but the enhancement of his moral character and perspective.
Jojo Rabbit encompasses every type of comedy. It is farcical in the way it depicts Hitler as a zany, comically absurd character. It is a romantic comedy with a budding relationship with likable young characters, who seem made for each other. It has strong elements of satirical comedy, in Jojo's youthful admiration of Hitler as a superstar and in its portrayal of Nazis. It is clearly a black comedy that invites us to laugh at events that are horrifying and grotesque.
Jojo Rabbit is a meaningful dramatic comedy that enhances our understanding of a brutal time in history. It shows a different take on the Nazi youth mindset, and their blind devotion to Hitler. It also delves into the dark conscience of a child trying to make sense of his world, when everything is not as it seems and Hitler is not the hero he believed. Comedy makes the subject more palpable and easy to absorb. It juxtaposes the brutality of war, with the innocence of youth, through a comedic lens.